Western Blot
Western blot analysis of LASS2D9 antibody. Whole cell lysate from human (Hela) and mouse (C2C12, mouse adult fibroblasts (MAFs)) cell lines cells were separated on SDS-PAGE gel, transferred to nitrocellulose membrane and blotted with LASS2D9 antibody. The membrane was blocked overnight in blocking buffer (5% nonfat dry milk resuspended in 0.1% Tween and 1X PBS). Both primary and secondary antibodies were diluted in blocking buffer. The predicted molecular weight for lamin A is 74 kDA and for lamin C 65 kDa. The absence of a band in LMNA null MAFs indicated that the antibody specifically recognizes products of LMNA gene.
Immunofluorescence staining of mouse small intestine.
Small intestine from adult C57BL/6 mice was transferred to OCT compound and frozen in liquid nitrogen. Tissue cryosections were fixed in 10% neutral buffered formalin, permeabilized and stained with anti-lamin A+C LASS2D9 antibody.
Immunofluorescence staining of human (Hela) and mouse (C2C12) cell lines with LASS2D9 antibody.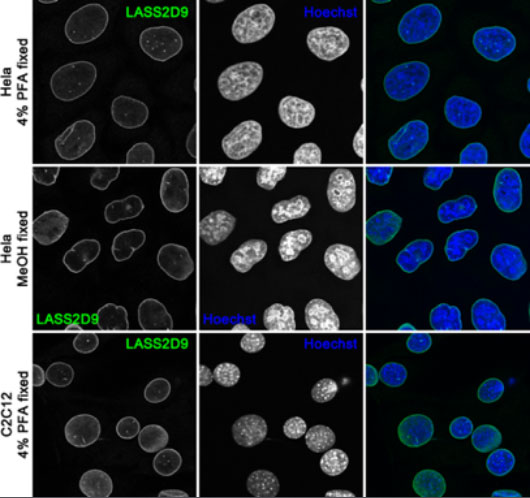 Cells were fixed in 4% PFA (upper and bottom panels) or cold methanol (middle panel) and labelled with mouse monoclonal LASS2D9 antibody.
The mouse monoclonal LASS2D9 antibody specifically detects lamin A and lamin C.
(A) Wild-type mouse adult fibroblast (MAFs LMNA+/+) (upper panel) and LMNA-null MEFs (MAFs LMNA-/-) (lower panel) were methanol fixed and immunofluorescently stained with LASS2D9 mouse monoclonal antibody. (B) LMNA-null mouse adult fibroblast stably expressing mEos2-lamin A (upper panel) or mEos2-lamin C (2) (lower panel) were fixed in cold methanol and stained with LASS2D9 antibody (magenta). Expression of the respective LMNA isoform is shown in green. The nuclei were counter-stained with Hoechst. In LMNA-null MEFs there is a loss of LASS2D9 antibody staining signal. Rescue of LMNA-null cells with lamin A or lamin C expressing constructs restores the LASS2D9 antibody signal strongly suggesting that LASS2D9 specifically detects the products of LMNA gene.