Immunohistochemistry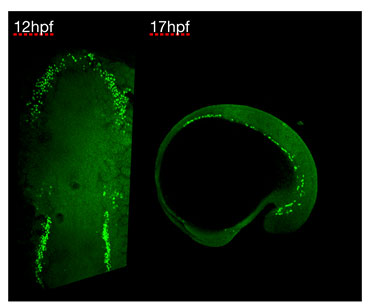 Whole mount immunohistochemistry, using 12 or 17 hours post fertilization wild type zebrafish embryos (2%PFA fixed). Primary stain: anti-Etv2 rabbit polyclonal antibody (1:500 dilution). Secondary stain: Invitrogen Goat anti-rabbit Alexa fluor 488 (Cat#:A111034); [1:1,000 Dilution].
Western Blot
Western blot of HEK293T cell lysates cotransfected with a 6xc-Myc tagged version of Etv2 and Enhanced green fluorescent protein (EGFP). Lysates where run on a TRIS-Glycine gel and transfered to PDVF membrane. The blot was cut, blocked with 5% dried milk and probed individually with a 1:5,000 dilution of anti-Etv2 polyclonal antibody, 1:10,000 dilution of Sigma anti-c-Myc monoclonal antibody(clone: 9E10), or 1:5,000 dilution of Invitrogen anti-GFP rabbit polyclonal (Cat#:A11122). A 1:20,000 dilution of species specific HRP conjugated secondary was used for visualization.
Adapted from: Moore JC et al., Dev Biol. 2013 Dec 1;384(1):128-40.