Proposed epitope map of 9D4 mAb against AC toxin

The linear sequence of AC toxin is shown along with its four major domains. Solid bars indicate the proposed epitope of the 9D4 mAb.
Adapted from: Lee SJ, Gray MC, Guo L, Sebo P, Hewlet EL. Epitope Mapping of Monoclonal Antibodies against Bordetella pertussis Adenylate Cyclase Toxin. Infect Immun. 67(5): 2090-5 (1999).
Monoclonal antibody that immunoprecipitates AC enzyme activity recognize a 216-kDaprotein by Western blot.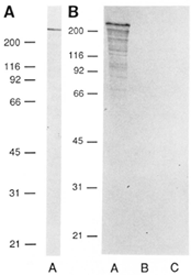 (A) Sucrose gradient pool (210 pg/ml) was separated by 12.5% SDS-PAGE, transferred onto a PVDF membrane, and incubated with 9D4 monoclonal antibody. (B) Urea extracts (25 pg each) of BP338, wild type strain (lower A), and two Tn5 mutants, BP348 (lane B) and RP347 (laneC), both lacking AC, were fractionated by 12.5% SDS-PAGE, transferred to PVDF, and incubated with monoclonal antibody 9D4.
Adapted from: Hewlett EL, Gordom VM, McCaffery JD, Sutherland WM, Gray MC. Adenylate Cyclase Toxin from Bordetella pertussis. J Biol Chem. 264(32): 19379-84 (1989).