Kerafast Coronavirus Update
Last Updated 22 April, 2020
Although we are carefully managing the number of employees at our locations at any given time and practicing extreme social distancing, we have been able to maintain our commitment to our customers, including many who are working on COVID-19. To date we have been able to deliver our reagents with minimal delays. We continue to ensure that our reagents for COVID-19 research and other applications are available to researchers that need them.
---
Last Updated 13 April, 2020
Here at Kerafast, we remain committed to helping researchers access the materials they require during this difficult time. All employees who can perform their responsibilities at home are busy doing just that. Our laboratory and customer service employees continue to spend the minimal time necessary in the office, with their presence spaced out to ensure limited overlap of employees at the same time. And, of course, they maintain extreme social distancing at all times.
Additionally, we are supporting efforts to assist those on the front lines in other ways. For example, our recent blog discusses a donation we have made to support Off Their Plate, a non-profit organization that delivers meals for health care workers.
---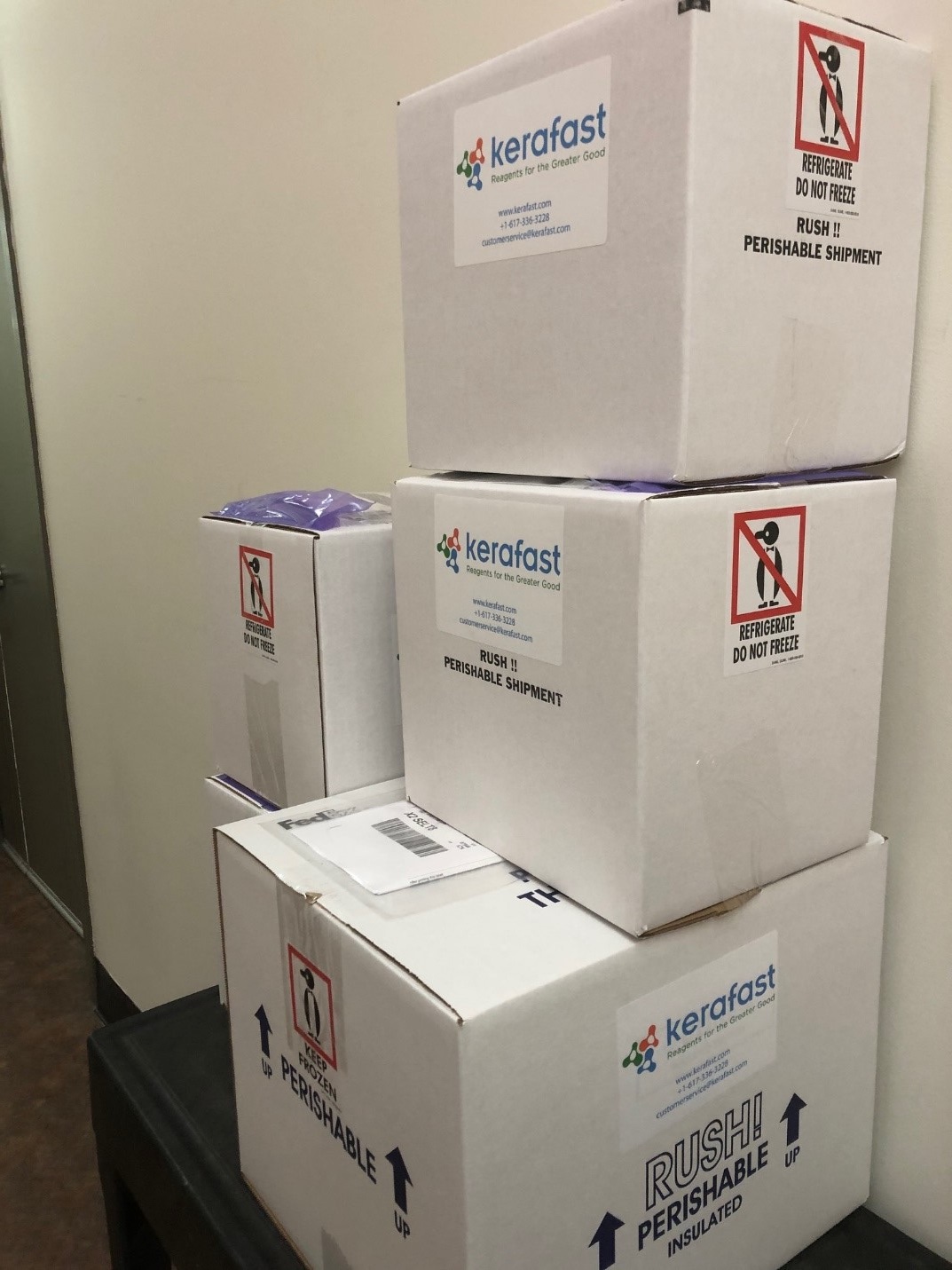 Last Updated 6 April, 2020
Our customer service and logistics staff continue to prepare shipments of materials to our customers while following strict social distancing guidelines and limiting time spent in the office. We are ensuring that our reagents for COVID-19 research and other applications are in the hands of researchers who need them.
Please stay safe and follow your Government's guidelines as we get through this difficult time together.
---
Last Updated: 31 March, 2020
The Kerafast office in Boston continues to comply with our Governor's directives. The Company remains considered essential as we supply reagents and antibodies to study SARS-CoV-2, the virus causing COVID-19. Our goal is to continue to support our customers and their work while maintaining social distancing and protecting our employees and their families. 
To that end:
All employees who can work from home are doing so
We are shipping on limited days of the week to keep our staff in the office minimally
Any disruption to fulfillment of orders will be communicated directly to affected customers
All of us at Kerafast wish you and your family well.
---
Last updated: 20 March, 2020
Our priority as an organization is the health and safety of our staff followed by the completion/shipping of all orders in a timely manner. At this time, we are continuing to offer customer support and ship as many orders as possible.
To try to minimize the chance of COVID-19 impacting our business, we have put the following measures in place:
  A worldwide travel ban has been imposed on all staff.
  Employees showing any signs of illness have been asked to self-isolate and report their illness to our Chief Operations Officer who will monitor the situation.
  All staff that do not need to be onsite have been asked to work from home.
  Any staff that fall into high risk groups (e.g., over 70 and/or underlying health conditions) must work from home.
  We are no longer accepting visitors to our sites in the UK, US and The Netherlands.
  We will contact customers directly prior to shipping in order to make sure delivery sites are open.
  We are putting systems in place in case our Boston office is required to shutdown entirely, as the city is under a State of Emergency. We expect our UK facility to operate in some capacity throughout most shutdown situations, as they are working on several COVID-19 antibody manufacturing projects. If the Boston office is closed, the UK facility will take over worldwide order shipping as much as is feasible.
Our entire Company wishes that you - our valuable clients and your families - remain healthy and safe during this very difficult time.