Retiring or Closing Labs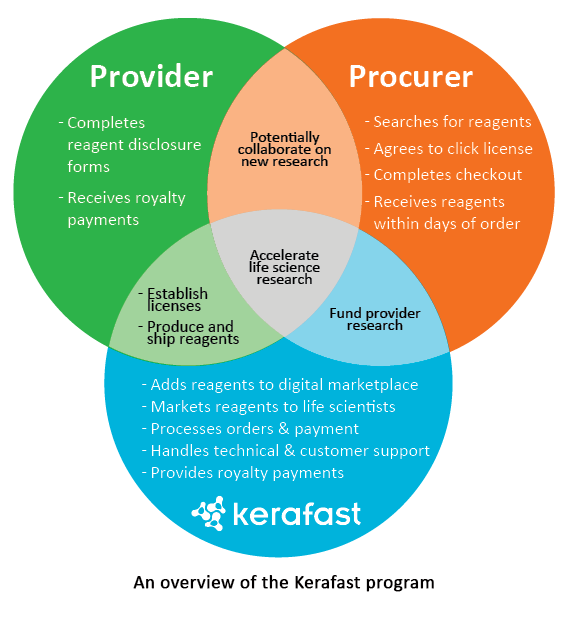 At Kerafast, we've found that freezers of soon-to-retire investigators can be a good source for licensable materials. We're now working with a growing number of research institutions to provide a new home for reagents as retiring PIs clean out their labs, to ensure the continued availability of unique and useful research tools.
If you're planning to retire or otherwise close your lab, or if you're a technology commercialization professional working with these investigators, the Kerafast program can provide a simple solution to the question of what to do with excess lab-made reagents from a shuttering lab. We currently work with more than 200 institutions worldwide to facilitate access to reagents developed by their investigators, through an online catalog and streamlined MTA process. Kerafast markets the materials, handles selling and shipping logistics, and returns a portion of the proceeds back to the university.
We make adding reagents to our catalog as simple as possible; learn about the process here. We can store reagents in our in-house lab, as well as take over production of antibodies and cell lines. As you close down your lab, we would provide the necessary shipping supplies to safely send your materials to our facility. Then, we can either market your remaining stocks to ensure no materials go to waste, or take over production to ensure the reagents live on long after retirement.
For an overview of how we helped a retiring University of New Hampshire investigator ensure continued access to her collection of antibodies and peptides, check out this UNH blog post.
Kerafast facilitates access to a wide variety of lab-made reagents, including antibodies, proteins, cell lines, plasmids, nanoparticles, probes and more. If you're interested in adding any of these materials to our catalog, or if you have any questions about how the program works, please get in touch! Contact us at community@kerafast.com or fill out the form below.