Specifications
| | |
| --- | --- |
| Product Type:  | Small Molecule |
| Name:  | Biotin-1,3-cyclopentanedione (BP1) |
| Chemical Formula:  | C17H25N3O4S2 |
| Molecular Weight:  | 399.5281 |
| Format:  | light yellow solid |
| Purity:  | > 90% by NMR |
| Solubility:  | The producing laboratory recommends using 100% DMSO to make a 100mM stock. Once dissolved, it can be aliquotted and stored at -20C to -80C for further experiments. It is recommended to avoid multiple freeze-thaw cycles. It is recommended to wait to dissolve in aqueous buffer to (typically 1 mM) until right before using in experiments. |
| Stability:  | > 6 months at -20C |
| Storage:  | Store at -20C. Avoid multiple freeze-thaw cycles |
| Shipped:  | Cold packs |
Data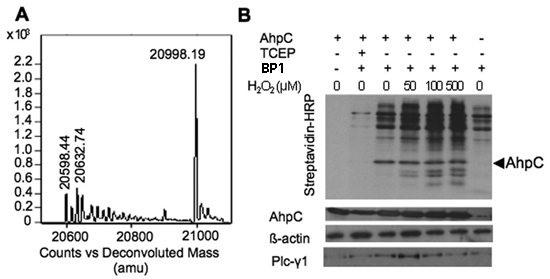 Reaction products of pure protein and cell lysates with BP1. (A) ESI-TOF MS spectrum showing C165S AhpC-BP1 covalent adduct formation. (B) Western-blot analysis of proteins from NIH 3T3 cell lysates labeled with BP1. The blot was probed with streptavidin-HRP, and antibodies for AhpC and beta-actin. Samples after enrichment in proteins labeled with BP1 were probed for PLCγ1.
Adapted from: Qian, J., et al. Chem. Commun., 47, 9203–9205 (2011).
References
Qian, J., Klomsiri, C., Wright, M.W., King, S.B., Tsang, A.W., Poole, L.B, and Furdui, C.M. Simple synthesis of 1,3-cyclopentanedione derived probes for labeling sulfenic acid proteins. Chem. Commun., 47, 9203-9205 (2011).
Bansal N, Mims J, Kuremsky JG, Olex AL, Zhao W, Yin L, Wani R, Qian J, Center B, Marrs GS, Porosnicu M, Fetrow JS, Tsang AW, Furdui CM. Broad phenotypic changes associated with gain of radiation resistance in head and neck squamous cell cancer. Antioxid Redox Signal. 2014 Jul 10;21(2):221-36. View Article
McAdam E, Brem R, Karran P. Oxidative Stress-Induced Protein Damage Inhibits DNA Repair and Determines Mutation Risk and Therapeutic Efficacy. Mol Cancer Res. 2016 Jul;14(7):612-22. doi: 10.1158/1541-7786.MCR-16-0053. PubMed PMID: 27106867; PubMed Central PMCID: PMC4955916. View Article
Dotsey EY, Jung KM, Basit A, Wei D, Daglian J, Vacondio F, Armirotti A, Mor M, Piomelli D. Peroxide-Dependent MGL Sulfenylation Regulates 2-AG-Mediated Endocannabinoid Signaling in Brain Neurons. Chem Biol. 2015 May 21;22(5):619-28. doi: 10.1016/j.chembiol.2015.04.013. PubMed PMID: 26000748; PubMed Central PMCID: PMC4459529. View Article
Guven M, Brem R, Macpherson P, Peacock M, Karran P. Oxidative Damage to RPA Limits the Nucleotide Excision Repair Capacity of Human Cells. J Invest Dermatol. 2015 Nov;135(11):2834-2841. View Article
Long D, Wu H, Tsang AW, Poole LB, Yoza BK, Wang X, Vachharajani V, Furdui CM, McCall CE. The Oxidative State of Cysteine Thiol 144 Regulates the SIRT6 Glucose Homeostat. Sci Rep. 2017 Sep 8;7(1):11005. View Article
If you publish research with this product, please let us know so we can cite your paper.