Specifications
| | |
| --- | --- |
| Product Type:  | Cell Line |
| Name:  | GAPDH-KD |
| Cell Type:  | HEK293T |
| Organism:  | Human |
| Biosafety Level:  | BSL2 |
| Subculturing:  | Change media every 2-3 days |
| Growth Conditions:  | DMEM, high glucose + 10% FBS |
| Cryopreservation:  | 40 % DMEM, 10 % DMSO, 50 % FBS |
| Storage:  | Liquid nitrogen |
| Shipped:  | Dry Ice |
Data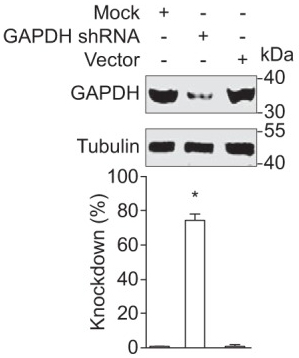 GAPDH knock down efficiency. HEK293T cells were transfected with the shRNA plasmid psi-LVRU6GP targeting the GAPDH 3′-UTR mRNA. Stable cell lines were created using puromycin selection. Tubulin was used to normalize GAPDH abundance. Asterisks indicate protein abundance significantly different from that of the control (n = 3, ANOVA).
Adapted from: El Qaidi S, et al. J Biol Chem. 2017 Jul 7;292(27):11423-11430.
References
El Qaidi S, Chen K, Halim A, Siukstaite L, Rueter C, Hurtado-Guerrero R, Clausen H, Hardwidge PR. NleB/SseK effectors from Citrobacter rodentium, Escherichia coli, and Salmonella enterica display distinct differences in host substrate specificity. J Biol Chem. 2017 Jul 7;292(27):11423-11430. doi: 10.1074/jbc.M117.790675. Epub 2017 May 18. PubMed PMID: 28522607; PubMed Central PMCID: PMC5500807.
If you publish research with this product, please let us know so we can cite your paper.