Specifications
| | |
| --- | --- |
| Product Type:  | Antibody |
| Antigen:  | Pectic polysaccharide (beta 1,4-galactan) |
| Isotype:  | IgG |
| Clonality:  | Monoclonal |
| Clone Name:  | LM5 |
| Reactivity:  | Land plants |
| Immunogen:  | Polysaccharide |
| Species Immunized:  | Rat |
| Epitope:  | beta-1,4-galactan |
| Buffer:  | Cell Culture Supernatant, 0.05% Sodium Azide |
| Tested Applications:  | IF (1:10), ELISA (1:10) |
| Storage:  | +4C (short term), -20C (long term) |
| Shipped:  | Ambient temperature |
Data
Immunofluorescence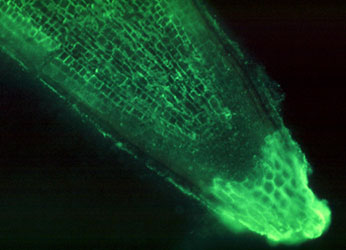 Carrot Root Tip
References
Jones L, Seymour GB, Knox JP. Localization of Pectic Galactan in Tomato Cell Walls Using a Monoclonal Antibody Specific to (1[->]4)-[beta]-D-Galactan. Plant Physiol. 1997 Apr;113(4):1405-1412.
Andersen MC, Boos I, Marcus SE, Kra?un SK, Rydahl MG, Willats WG, Knox JP, Clausen MH. Characterization of the LM5 pectic galactan epitope with synthetic analogues of Β-1,4-d-galactotetraose. Carbohydr Res. 2016 Dec 21;436:36-40.
If you publish research with this product, please let us know so we can cite your paper.