Specifications
| | |
| --- | --- |
| Product Type:  | Antibody |
| Antigen:  | Polycystin-1 |
| Accession ID:  | NP_000287.3 |
| Isotype:  | IgG1 |
| Clonality:  | Monoclonal |
| Clone Name:  | E8-8C3C10 |
| Reactivity:  | Human and mouse |
| Immunogen:  | 6xHis-tagged fusion protein |
| Species Immunized:  | Rat |
| Epitope:  | Third extracellular loop of mouse PC1 |
| Purification Method:  | Protein G Affinity |
| Buffer:  | 0.1M Sodium Phosphate, pH 7.4, 0.15M NaCl, 0.05% (w/v) Sodium Azide |
| Tested Applications:  | WB (1ug/mL) and IP(0.1-2ug per 2mg of protein) |
| Storage:  | -20C |
| Shipped:  | Cold packs |
Data
Western Blot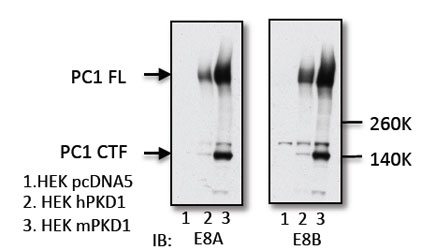 Immunoblot detection of recombinant human or mouse PC1 by E8. E8 can detect full length (FL)PC1 and the C-terminal fragment (CTF).
References
Yu S, Hackmann K, Gao J, He X, Piontek K, García-González MA, Menezes LF, Xu H, Germino GG, Zuo J, Qian F. Essential role of cleavage of Polycystin-1 at G protein-coupled receptor proteolytic site for kidney tubular structure. Proc Natl Acad Sci U S A. 2007 Nov 20;104(47):18688-93.
If you publish research with this product, please let us know so we can cite your paper.