Specifications
| | |
| --- | --- |
| Product Type:  | Antibody |
| Accession ID:  | AF153350 |
| Antigen:  | GST-ADAM28 Cytoplasmic Domain |
| Molecular Weight:  | ~100 kDa |
| Isotype:  | IgG |
| Clonality:  | Polyclonal |
| Reactivity:  | Mouse |
| Immunogen:  | GST-fusion protein with the cytoplasmic domain of mouse ADAM28 |
| Species Immunized:  | Rabbit |
| Epitope:  | Cytoplasmic domain |
| Purification Method:  | Serum, not purified |
| Tested Applications:  | WB (1:500) |
| Storage:  | -80C |
| Shipped:  | Dry ice |
Research
| | | |
| --- | --- | --- |
| Antibody | Species Reactivity | Specificity |
| ADAM9 | Human | Cytoplasmic Domain |
| ADAM9 | Mouse | Cytoplasmic Domain |
| ADAM12 | Mouse | Cytoplasmic Domain |
| ADAM15 | Human | Cytoplasmic Domain |
| ADAM15 | Mouse | Cytoplasmic Domain |
| ADAM15 | Human | Extracellular Domain |
| ADAM15 | Mouse | Disintegrin Domain |
| ADAM17 | Mouse | Cytoplasmic Domain |
| ADAM17 | Mouse | Pro domain |
| ADAM19 | Mouse | Cytoplasmic Domain |
| ADAM28 | Mouse | Cytoplasmic Domain |
| ADAM28 | Mouse | Extracellular Domain |
| SNX9 | Mouse | Cytoplasmic Domain |
Data
Western Blot Analysis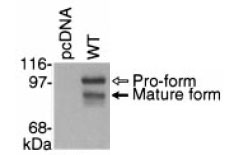 Western blot of lysates from COS-7 cells transfected with a pcDNA control and wild-type ADAM28 (WT). All samples were reduced with DTT and separated on a 7.5% (w/v) polyacrylamide gel. Proteins were transferred to nitrocellulose and immunoblotted with ADAM28 cytoplasmic domain antiserum.
Adapted from: Howard L, et al. Biochem J. 2000, 348, 21-27.
References
Howard, L.; Maciewicz R. A.; Blobel C. P. Cloning and characterization of ADAM28: evidence for autocatalytic pro-domain removal and for cell surface localization of mature ADAM28. Biochem J. 2000, 348, 21-27.
If you publish research with this product, please let us know so we can cite your paper.