Specifications
| | |
| --- | --- |
| Product Type:  | Antibody |
| Accession ID:  | U41765 |
| Antigen:  | GST-ADAM9 cytoplasmic domain |
| Molecular Weight:  | ~84 kDa (mature form), ~115 kDa (pro-form) |
| Isotype:  | IgG |
| Clonality:  | Polyclonal |
| Reactivity:  | Mouse |
| Immunogen:  | GST-cyto corresponding to the cytoplasmic domain of mouse ADAM9 |
| Species Immunized:  | Rabbit |
| Epitope:  | Cytoplasmic domain |
| Purification Method:  | Serum, not purified |
| Tested Applications:  | WB (1:500) |
| Storage:  | -80C |
| Shipped:  | Dry ice |
Research
| | | |
| --- | --- | --- |
| Antibody | Species Reactivity | Specificity |
| ADAM9 | Human | Cytoplasmic Domain |
| ADAM9 | Mouse | Cytoplasmic Domain |
| ADAM12 | Mouse | Cytoplasmic Domain |
| ADAM15 | Human | Cytoplasmic Domain |
| ADAM15 | Mouse | Cytoplasmic Domain |
| ADAM15 | Human | Extracellular Domain |
| ADAM15 | Mouse | Disintegrin Domain |
| ADAM17 | Mouse | Cytoplasmic Domain |
| ADAM17 | Mouse | Pro domain |
| ADAM19 | Mouse | Cytoplasmic Domain |
| ADAM28 | Mouse | Cytoplasmic Domain |
| ADAM28 | Mouse | Extracellular Domain |
| SNX9 | Mouse | Cytoplasmic Domain |
Data
Western Blot Analysis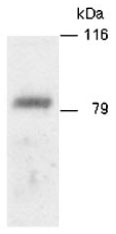 Western blot of a separate sample of wild-type full-length MDC9 expressed in COS-7 separated on a 7.5% SDS-gel.
Adapted from: Roghani M, et al. J Biol Chem. 1999 Feb 5;274(6):3531-40.
References
Weskamp G, Krätzschmar J, Reid MS, Blobel CP. MDC9, a widely expressed cellular disintegrin containing cytoplasmic SH3 ligand domains. J Cell Biol. 1996 Feb;132(4):717-26.
Roghani M, Becherer JD, Moss ML, Atherton RE, Erdjument-Bromage H, Arribas J, Blackburn RK, Weskamp G, Tempst P, Blobel CP. Metalloprotease-disintegrin MDC9: intracellular maturation and catalytic activity. J Biol Chem. 1999 Feb 5;274(6):3531-40.
Peduto L, Reuter VE, Shaffer DR, Scher HI, Blobel CP. Critical function for ADAM9 in mouse prostate cancer. Cancer Res. 2005 Oct 15;65(20):9312-9.
Guaiquil V, Swendeman S, Yoshida T, Chavala S, Campochiaro PA, Blobel CP. ADAM9 is involved in pathological retinal neovascularization. Mol Cell Biol. 2009 May;29(10):2694-703.
If you publish research with this product, please let us know so we can cite your paper.