Specifications
| | |
| --- | --- |
| Product Type:  | Antibody |
| Accession ID:  | NP_006653 |
| Antigen:  | SRCAP |
| Molecular Weight:  | 400 kDa |
| Isotype:  | IgG |
| Clonality:  | Polyclonal |
| Clone Name:  | SLU1 |
| Reactivity:  | Human (use with other species has not been tested) |
| Immunogen:  | Peptide |
| Species Immunized:  | Rabbit |
| Epitope:  | C-terminal SCRAP peptide (SSAPPSLAGPAVSHRGRKAKT) |
| Purification Method:  | Affinity purified using anti-peptide column |
| Buffer:  | PBS |
| Tested Applications:  | IP (1:100), WB (1:1000), and ChIP assay (1:100) |
| Concentration:  | 1 mg/mL, (Bradford assay) |
| Storage:  | -80C |
| Shipped:  | Cold packs |
Data
Demonstration of WB and IP analyses.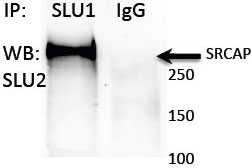 SRCAP protein was immunoprecipitated from AA549 Nuclear extracts with (SLU1) or normal rabbit IgG and analyzed by Western blot using anti-SRCAP antibody (SLU2).
References
The chromatin remodeling protein, SRCAP, is critical for deposition of the histone variant H2A.Z at promoters. (2007). Wong, M.M., Cox L.K. and Chrivia, J.C. (2007). . J Biol Chem. 282, 26132-26139.
Purification of a Human SRCAP Complex that Remodels Chromatin by Incorporating the Histone Variant H2A.Z into Nucleosomes. (2006). Ruhl, D.D., Jin, J. Cai, Y. Swanson, S., Florens, L., Michael P. Washburn, M.P., Conaway, R. and Conaway, J.W. and Chrivia, J.C.. Biochemistry 45, 5671-5677.
If you publish research with this product, please let us know so we can cite your paper.