Specifications
| | |
| --- | --- |
| Product Type:  | Antibody |
| Antigen:  | Porcine rotavirus (PoRV) VP6 |
| Accession ID:  | P14162 |
| Molecular Weight:  | 44.6 kDa |
| Isotype:  | IgG |
| Clonality:  | Monoclonal |
| Clone Name:  | 10B1 |
| Reactivity:  | Porcine |
| Immunogen:  | Purified recombinant PoRV VP6 subclass B |
| Species Immunized:  | Mouse |
| Buffer:  | 0.1M Sodium Phosphate, pH 7.4, 0.15M NaCl, 0.05% (w/v) Sodium Azide |
| Tested Applications:  | ELISA, WB, IF |
| Storage:  | -20C |
| Shipped:  | Cold Packs |
Data
Immunofluorescence Microscopy
Immunofluorescence microscopy of Sf9 cells inoculated with are combinant baculovirus expressing VP6 of PoRV B (A)or PoRV C (B) and baculovirus (C, negative control), respectively, after being stained with mAB10B1 and 11F3. Clones were specific positive to their targets.
Western Blot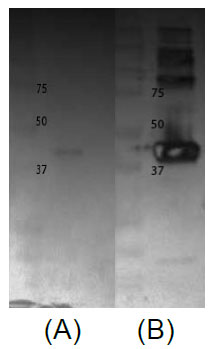 Specificity of mAB 10B1 and 11F3 for PoRV B VP6 (A) And PoRV C VP6 (B), respectively as determined by WB
References
Estes, M. K., and A.Z. Kapikian, 2007, Rotaviruses,in D.M.Knipe, and P.M. Howley, eds.,FieldsVirology, 5thEdition, Philadelphia: Lippincott-Raven and Wilkins Publishers,p.1917-1974.
Matthijnssens, J., P. H.Otto, M. Ciarlet, U. Desselberger, M. Van Ranst, and R. Johne, 2012, VP6-sequence-based cut off values as a criterion for rotavirus species demarcation: Arch Virol,v.157,p.1177-82.
Trojnar, E., P. Otto, and R. Johne, 2009, The first complete genome sequence of a chicken group A rotavirus indicates independent evolution of mammalian and avian strains: Virology,v.386,p.325-33.
Cooke, S. J. , I . N . Clarke, R. B. Freitas, Y. B. Gabbay, and P.R. Lambden, 1992, The correct sequence of the porcine group C / Cowden rotavirus major innercapsid protein shows close homology with human isolates from Brazil and the U.K: Virology,v.190,p.531-7.
If you publish research with this product, please let us know so we can cite your paper.